We are huge fans of including your four legged family members in your wedding day here at Vesuvius Vineyards. Dogs are an important part of your family and it can be a very wonderful experience to have them share your wedding day with you. In fact, we had 3 dogs in our wedding!! To make the process easier we have created some helpful tips on including your pup in your wedding.
It is first and foremost important to think about your individual dog, will they be excited to spend a day with all of your friends and family? Or will this cause them to be stressed and upset. No matter how much you want to include them only do so if they will enjoy it and if it will not create extra stress for you. There are plenty of ways to include your dog even if you can't have them join you at the ceremony/reception.
Have your pup join you for your bridal or engagement photos. This is a low stress setting where you can get amazing pictures with your pet. These can then be displayed at your wedding. Win Win.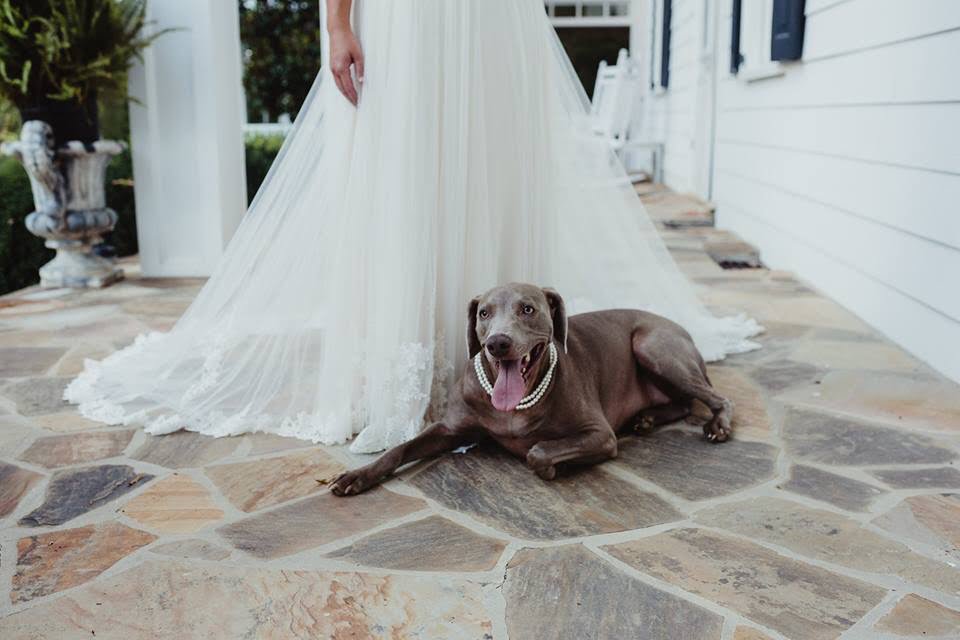 Have treat bags made for your guests to take home to their pets as favors. They can be a "gift from our pups to yours". Or in leu of favors, make a donation to your local shelter or rescue in your pets honor.
Have your pet be a "guest" at the ceremony. You can designate someone to bring them to the wedding and safely get home before the party begins. This way they can be around for pictures but don't have to be a part of the processional. This is a great plan for pets who prefer not to be in the center of attention.
Hire a professional wedding pet professional such as the amazing folks at Barks and Bloom NC. This way your friends and family don't have to be responsible for your pup and you know that they are in great hands!
Photo by Genesis Group Photography
If you decide to include your pet in the ceremony it is a great idea to practice with them before hand to help them be comfortable with walking down the aisle and not barking at the guest as they arrive. It is a great idea to work with a trainer if you want your pet to do some thing more advanced such as these two sweet Vizslas did!
Last but not least, consider your pets comfort at all points through out the day. Make sure you plan ahead with food, water comfortable bedding/crates for when they need to rest and a way to clean up after them (everybody poops after all!!)
Here are a few Photos from our Wedding with our beloved pups Sadie, Dakota and Boomer.